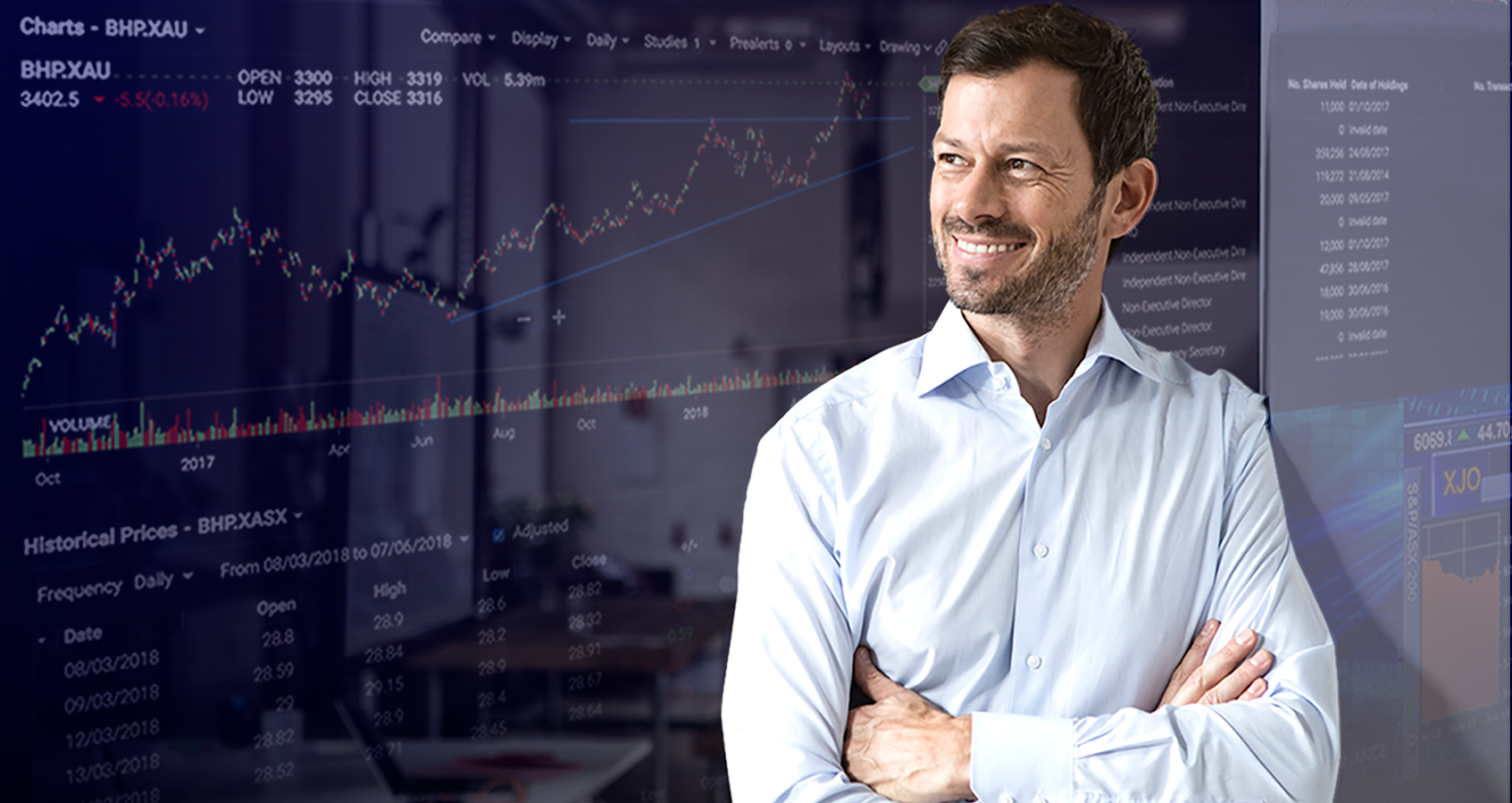 Using the Analyser with Pre-Alerts
Pre-Alert for Scanning
The Pre-Alert indicator can be used in an equally powerful way to scan and identify codes where the pre-Alerts have met the correct criteria's for that that day and historically. What's easier than looking at charts one by one to find a Turning Point or Accumulation scanning your watchlist or the All Ords and only seeing the positive results.

Pre-Alert Formulas
To select the Pre-Alert indicators, click on the Formulas. All the Pre-Alerts in the formulas are automatically set to the Pre-Alert default values. Click on the indicator to select which one you want.

Default Settings
The Pre-Alerts in the formulas when first selected will load with the default values.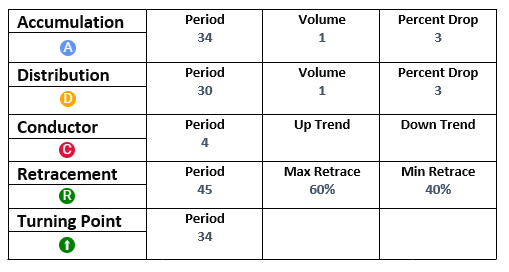 One thing to remember which is very important the indicators and the Pre-Alerts, all the bar calculations are based upon trading days. Once calendar month is normally 21-22 trading days.
Strategy
The analyser will help us quickly scan lots of codes to find potential opportunities, in this instance we use to scan for codes in the ASX top 200 that have triggered a 34-day Accumulation, so that means the stock has decreased in value of 3% and the volume is increasing which could indicate the beginning of a short term price rise.

Once the scan has finished it will display a list of positive results to your formula. Now all we need to do is import that into our watchlist so we view the results on a chart, the easiest way to do that is clicking on the Save as Watchlist.

Then saving the results to a watchlist.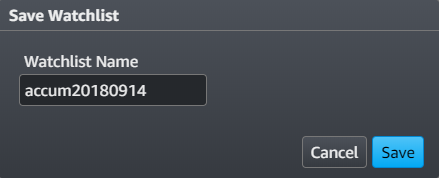 Now we can we go back and look at our results in our newly created watchlist, if we go to the watchlist drop down menu we can see the accum20180914 results watchlist, now we can select it.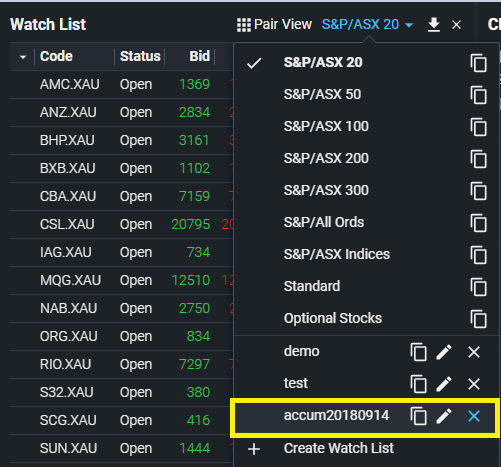 Then it's just a matter of scrolling through the watchlist to visually see on the chart where the Accumulation indicator has appeared on the chart.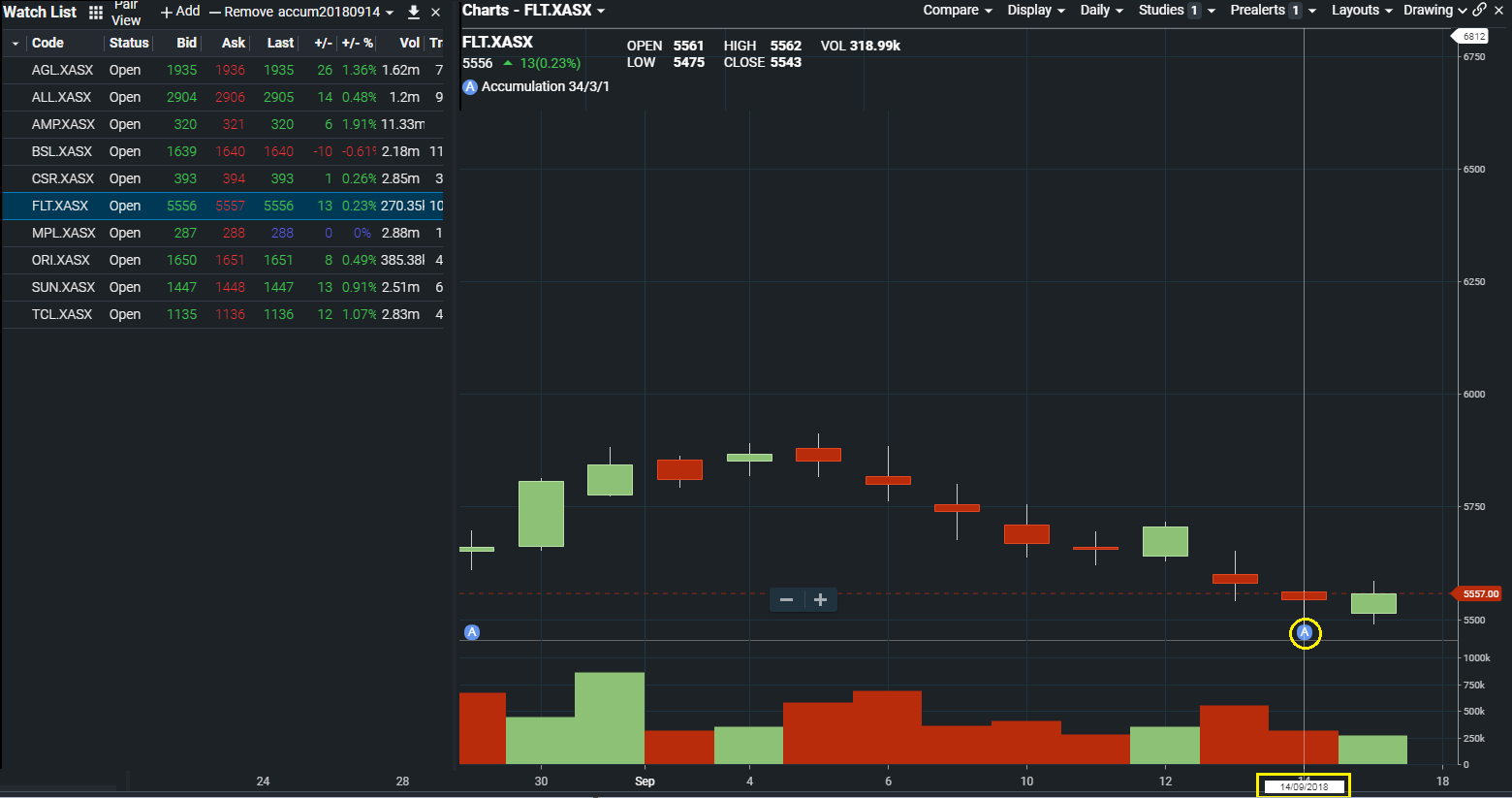 Summary
In summary, the analyser is a powerful tool in conjunction with the Pre-Alert indicators, it does a lot of the manual work for you and displays the positive result you are after. It becomes very useful when testing theories when the Pre-Alerts give the best results, you can easily modify the variables of the indicators and even apply lookback (to see if has occurred on and inclusive lookback days, not just the day you are scanning).
You can easily adjust the values you are testing, save the watchlist and then do you visual analysis on the chart.